There can't have been many matches where the winner has lost the 1st set only to go on and win 2 of the next three 6-0, 6-0. Andy Murray became (possibly) the first on that list with a 4-6, 6-3, 6-0, 6-0 victory over world No56 Daniel Gimeno-Traver in their first-round matchup at this year's Wimbledon tournament.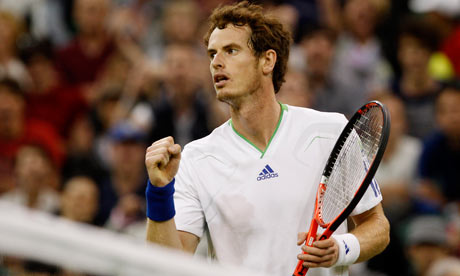 The Andy Murray on display in the opening set was not the one we saw two weeks ago at Queen's Club that made Andy Roddick look like an amateur. He looked cautious, slightly rusty and couldn't make an impact on Gimeno-Traver's serve - the Spaniard holding his own comfortably and asking plenty of questions on Murray's slow second serve, hammering his forehands for multiple winners. The breakthrough came in the 9th game of the set, tied at 4-4 when Gimeno-Traver converted one of his three break-points to take full control of the first set. He went on to close it out with little in the form of a comeback from the Scot.
The second set began in the same fashion until the players reached 3-3, Murray served to lead 4-3 before breaking serve for the first time and leveling the match at 1-1 after a simple hold of serve.
The opening game of the 3rd set signaled the beginning of the end for Gimeno-Traver. Murray needed 3 break points to get where he wanted to go, but finally began dominating the match the way he should have been. The wheels were well and truly falling off the Spaniard's challenge when he fell 4-0 down and practically gave up the set 6-0.
The trainer made a quick visit as the players enjoyed an extended rest between the final two sets. There was always the risk that Gimeno-Traver would have lost his focus after quitting the previous set. The fears proved true as he was broken again in the opening game. Murray began playing some of his most beautiful tennis, every drop shot and lob was finding it's mark as the world No4 completed another 6-0 trouncing to serve up a "double-bagel" to the downhearted Spaniard.