Arsenal won't win the league with their current crop of starlets.
Here's the why:
Arsenal are capable of playing some spellbinding football. Football that is easily equal to Barcelona's style of mesmeric passing football. On their day, Arsenal's midfield and attack can rip through the heart of almost any defence in Europe. It's when they meet the defensive powerhouses that things start to go a little pear-shaped for the Gunners.
Barcelona used to have the very same problem during the first half of last season. They have corrected that problem and now they sit with a 2 point lead in Spain. In just 15 games they have scored 46 times, conceding only 8. An incredible statistic and if they maintain this form (3 goals per game), they could destroy goalscoring records.
During the summer, the Catalan giants picked up Spain's World Cup winning striker David Villa for a cool
€40million. David Villa does not conform to the Messi/Xavi/Iniesta mould. He is capable of the same tiki-taki football, but he relies slightly more on the traditional centre-forward's play style. Using power and strength to muscle through defences to score. When Barcelona's beautiful game fails to penetrate properly, they can always step up to the plate and bang a goal in from nowhere. Thanks to this, Barcelona have avoided a couple of draws or losses, specifically in the Champions League, where Barcelona have struggled with uber-defensive teams like Rubin Kazan.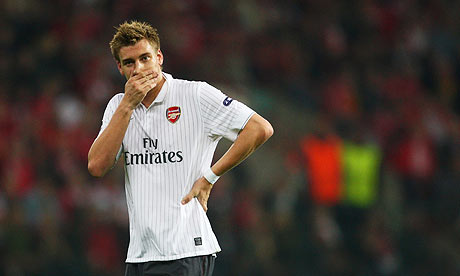 Nicolas Bendtner: Poor man's David Villa?
Arsenal suffer from not having a player like David Villa. Robin Van Persie used to be a little like this, but has largely become more like Xavi, Iniesta or Messi. Arsenal can score goals (Beating Braga 6-0, Blackpool 6-0). But when they come up against solid defences, namely Manchester United (so far), they have struggled. United did play a more defensive style than usual, but it worked perfectly. Arsenal had to resort to crossing balls from the wing, which they have not had to do for a long time.
Nicolas Bendtner is NOT in the same mould as David Villa. He has the build and probably the finishing skill, but he is devoid of the physical strength. He seems to fall over very easily compared to other players of his type, the Drogbas and Rooneys of the Premier League. If Arsene Wenger were to splash out (unlikely) on a better player than Bendtner, his team would be so much more deadly and a much bigger character in the title chase. With a true centre-forward, Arsenal should be able to deal with teams like Everton, Newcastle and West Bromwich Albion. These are the teams that tend to 'park the bus' against the 'Big 4' and have caused the Gunners the most issues - Arsenal have dropped points to all 3 of these teams - and this was largely down to the 10-man defences shutting out the gaps that Arsenal thread the ball through every Saturday. With a player such as Villa they could quite possibly have found a way through tough defences using a powerful, bullying player.
Suggestions? Unfortunately, Carlos Tevez doesn't look long for this country. Villa has just signed with Barca. There are very few of these 'traditional' #9s left in modern football. Fernando Torres has reportedly been uncomfortable at Liverpool and if they do not make it into the Champions League again this season he may well walk away from Anfield.
Surely Arsenal wouldn't pass up on the chance of a legit, world-class centre-forward?
Until then, Arsenal may find themselves dropping more points to teams that play with ten defenders.