After that meltdown at the Masters a few weeks ago, Rory McIlroy has found the perfect reply.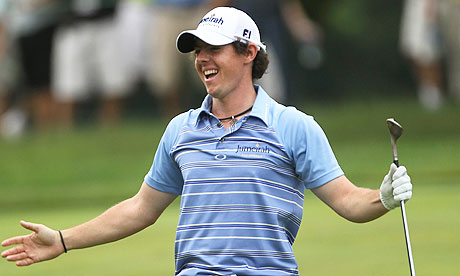 McIlroy's reaction after sinking a 113-yard
chip to move him to -11 for the tournament.
Having played through 2 rounds at Congressional Country Club, the young Northern Irishman has built a lead the size of which hasn't been seen since Tiger Woods destroyed the field at Pebble Beach US Open in 2000. After his first 36 holes, McIlroy had dropped just 2 shots to lead at 11 under par. If it were not for a double-bogey on the tricky 18th, he would have set an all-time record -13 for an 10 shot lead.
As it stands, Rory leads by some 8 shots over Heath Slocum and Y.E. Yang. It's hard to call them the leaders of the chasing pack because the pack are chasing something that's been in a different universe over the past two days.
It started off as a confident, assured performance. Then it turned into one of the best rounds of his life followed by becoming something crafted by the golfing gods as McIlroy chipped in a 113-yard from the 8th fairway. He continued the staggering performance by picking up a further 2 shots to move to an historic -13. The last player to get to -12 was Woods in '00 and he went on to win that US Open by some 15 strokes. Had he not dropped two shots on the final hole of the day we may as well begin carving his name into the famous trophy.
Many will remember McIlroy's incredible disintegration which was amazing as his play at CCC. Leading by 4 shots going into the final 9 holes of the tournament, McIlroy went on to drop 10 shots to card an 8-over-par 80 on the final day to finish some 10 shots off the eventual winner. It was an awe-inspiring display of how not to close out a tournament that included a triple-bogey at the 10th and a double-bogey at the 12th. If he contrives to throw away this tournament from this position, we can say of future repeats: "He's done a McIlroy."
For Rory's sake, hope he can hang on.