Chelsea have forgotten how to win. 5 points in their last 6 games: 1 win, 2 draws and 3 defeats against 6 teams that should have been 6 victories.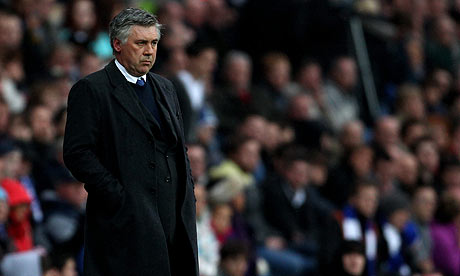 Chelsea can't get a win lately, Carlo Ancelotti
is right to look puzzled.
They lost to a resurgent Liverpool side, however motivated they may have been, Liverpool are creaking this season - they are floating in the zone between being a bona-fide top-half team and being involved in a relegation slog-fest. A win against Fulham (17th place) suggested that the previous week's loss was a mere blip. It turned out that the victory was the actual blip as Chelsea would go on to falter against Birmingham (1-0 loss, 14th), Newcastle (1-1 draw, 11th) and Everton (1-1 draw, 15th) has seen their 4 point lead at the top of the table turn into a 2 point deficit, they are 1 point behind Manchester Utd who had a game postponed vs Blackpool, a near-certain 3 points that will see Chelsea fall 4 points behind.
Chelsea's next 3 matches will either revive or crush their season. They go away to Tottenham Hotspur (5th) and then 7 days later host Manchester Utd (2nd) followed by a trip to Arsenal (1st) a week after that. If Chelsea lose more than 1 of these matches and fall what could be 7 points behind by the New Year, their title challenge will be seriously close to being over. Tottenham have a bad record against the traditional "Big 4" but recently beat Arsenal, ending a long long run and providing them with the sort of motivation to repeat the success against a struggling Chelsea side. They must then host Manchester United who have only lost 1 match all season. That was in the Carling Cup, a tournament the top teams never seem to take seriously. Manchester United are still on to repeat Arsenal's undefeated season. They have Dimitar Berbatov in lethal form and Wayne Rooney is desperate to prove his worth again.
Arsenal away will come next, and by now Chelsea will know whether a loss will end their title challenge. Arsenal haven't been perfect this season, but are on a run that has seen them take 3 wins from their last 3 games. Arsenal should have the edge here, providing their key players can stay fit and injury-free.
In short, Chelsea's season will be decided by New Year's day. Carlo Ancelotti may be forced to resign if things do not improve as no real reason will be found if their form does not improve with Drogba and John Terry back and Lampard returning in time for the Tottenham game.